ZSU-57-2 57mm Self-Propelled Anti-aircraft Gun

GENERAL DATA
ZSU-57-2
Country of Origin
CIS (formerly USSR)
Role
Air defense
Date Of Introduction
1955
Crew
6
Combat Weight
31 tons (28.0 mt)
Length, Overall
27.56 ft (8.4 m)
Width, Overall
10.73 ft (3.27 m)
Height, Overall
9.02 ft (2.75 m)
PERFORMANCE
ZSU-57-2
Engine
520 hp (388 kw) diesel
Range
249 miles (400 km)
Road Speed
31 mph (50 km/h)
Cross Country Speed
?
Swim Speed
N/A
Fording Depth
4.6 ft (1.4 m)
PROTECTION
ZSU-57-2
Armor
Front hull and turret: 0.5 in (13 mm)
Applique Armor
N/A
Explosive Reactive Armor
N/A
Active Protective System
N/A
NBC Protection System
N/A
Smoke Equipment
N/A
ARMAMENT

ZSU-57-2
Type
Mount
Typical Ammo Load
Two 57mm S-68 recoil-operated, air-cooled automatic cannons
Turret; 5-round clip; manual loading
300.
Frag-HE, AP-T, APC-T

FIRE CONTROL
ZSU-57-2
Fire Control System
Optical mechanical computing reflex sight
Main Gun Stabilization
?
Rangefinder
?
Infrared Searchlight
N/A
Radar
N/A
NOTES
The ZSU-57-2 can be employed in a ground support role. Uses a shortened T-54 chassis with thinner armor and only four road wheels. Fuel drums can be fitted on rear of hull. Absence of a tracking radar, a night vision device, and an enclosed turret makes this a daylight, fair weather weapon system only. Auto traverse with manual backup. Uses same ammo as the towed single S-60 AA gun.
Replaced by the
ZSU-23-4
.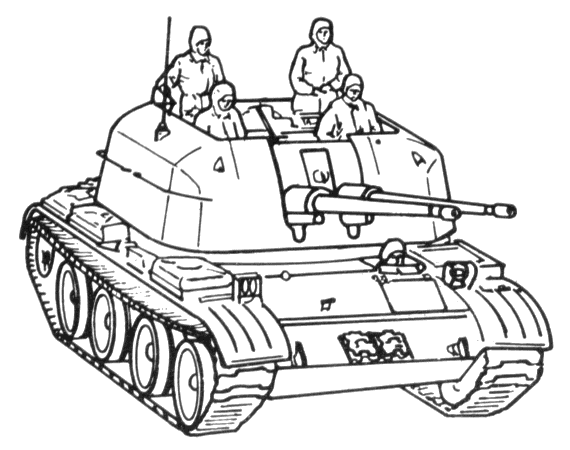 Recognition features:
Large square open-topped turret.
Twin tapering barrels with "pepperpot" muzzle brakes.
Four road wheels, no support rollers.
VARIANTS
Later variants were fitted with a more sophisticated sighting system, identified by two small ports in forward upper portion of the turret.
---
Chinese Type 80