2S1 122mm Self-Propelled Howitzer

GENERAL DATA
2S1
Alternative Designations
122mm 2S1 Gvozdika, 122mm M1974, 122 PsH 74 (Finland)
Country of Origin
CIS (formerly USSR)
Role
Regimental artillery and all-terrain fire support vehicle
Date Of Introduction
1974
Crew
4 (section of 6 with 2 in ammo carrier)
Combat Weight
17.3 tons (15.7 mt)
Ground Pressure
7.11 psi (0.5 kg/cm²)
Length, Overall
23.82 ft (7.26 m)
Width, Overall
9.35 ft (2.85 m)
Height, Overall
8.92 ft (2.72 m)
Ground Clearance
15.6 in (395 mm)
PERFORMANCE
2S1
Engine
300 hp (224 kw) V-8 diesel
Range
311 miles (500 km)
Fuel Capacity
145 gal (550 l)
Road Speed
37 mph (60 km/h)
Cross Country Speed
20 mph (32 km/h)
Swim Speed
2.8 mph (4.5 km/h)
Fording Depth
Amphibious
Trench Crossing
8.2 ft (2.5 m)
Vertical Wall Climb
3.6 ft (1.1 m)
Emplacement/Displacement Time
2/1 minutes
PROTECTION
2S1
Armor
Turret: 0.8 in (20 mm). Turret Top: 0.4 in (10 mm). Hull: 0.6 in (15 mm)
Applique Armor
N/A
Explosive Reactive Armor
N/A
Active Protective System
N/A
NBC Protection System
Yes
Smoke Equipment
N/A
ARMAMENT

2S1
Type
Mount
Typical Ammo Load
122mm, 36 caliber barrel length, 2A31 cannon
Turret; semi-automatic loading; double baffle muzzle brake
40.
Frag-HE, HEAT-FS, smoke, illumination, Frag-HE-RAP, incendiary, chemical, flechette, expendable Jammer, semi-active laser-guided Kitolov-2M Frag-HE

FIRE CONTROL
2S1
Fire Control System
Indirect Fire: PG-2 Panoramic Telescope (PANTEL)
Direct Fire: OP 5-37
Main Gun Stabilization
N/A
Infrared Searchlight
Yes
NOTES
The 2S1's ammunition stowage rack is not mechanized. The 2S1 is manually loaded with a semiautomatic ramming capability. The four-man crew consists of the commander, driver, gunner, and loader.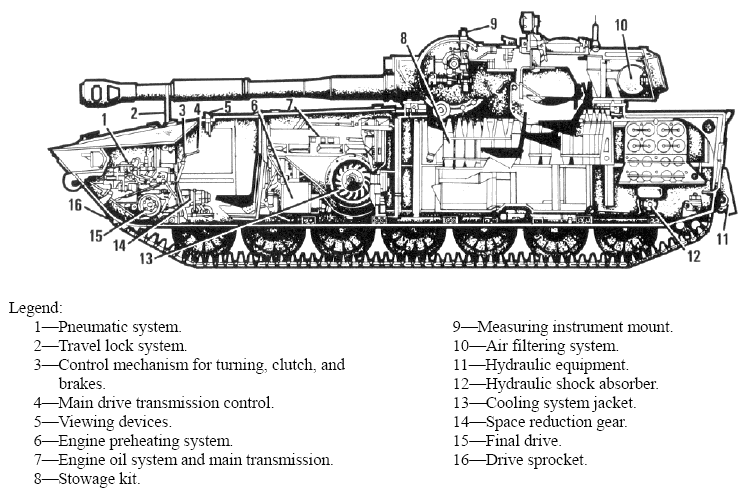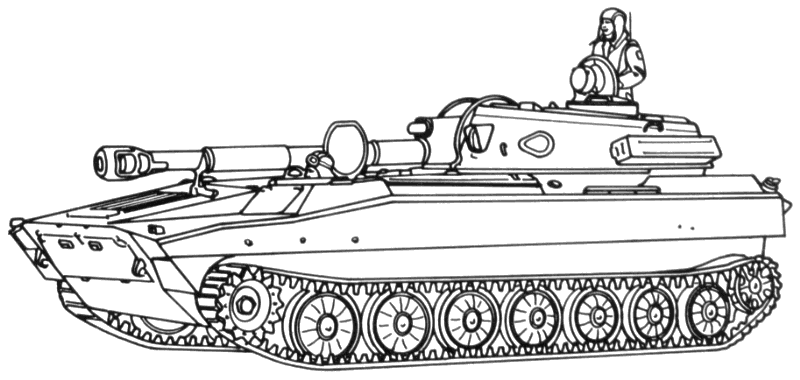 VARIANTS
2S1

1974. Original production model. See data above.

Recognition features:

Fully tracked vehicle.
Seven evenly spaced road wheels with no support rollers.
Short, flat turret set back on hull.
Gun tube flush with forward edge.
Tear-shaped port cover on left side of turret.
Rectangular box on left side of turret.
Double baffle muzzle brake. Bore evacuator.
Large infrared searchlight mounted on left of turret.
One door in rear of hull.
Driver left front with cutout.




MTK-2, M1979/UR67

1981. Based on the 2S1 self-propelled howitzer chassis, the MTK-2 has a turret-like superstructure that contains three UR-77 rockets on launch ramps. The range of the rockets is about 200 to 400 meters. Each rocket is connected via a towing line to 170 meters of mine clearance hose that is stowed folded in the uncovered base of the turret on the vehicle roof. The hose, with pressure fuses, is command-detonated to clear a path up 140 meters long and 6 meters wide through minefields. The MTK-2 is capable of operating in a nuclear, biological, and chemical environment and has good cross-country capability.

Vehicle was formerly known at the M1979/UR67.


RKhM

Chemical reconnaissance vehicle based on the 2S1 chassis.