M1117 Armored Security Vehicle

GENERAL DATA
M1117
Alternative Designations
Armored Security Vehicle, ASV, ASV-150, Guardian
Country of Origin
USA
Role
Military Police combat support vehicle
Date Of Introduction
2000
Crew
3 (commander, driver, gunner) + 1 passenger
Combat Weight
14.78 tons (13.41 mt)
Ground Pressure
?
Drive Formula
4 x 4
Length, Overall
20.5 ft (6.25 m)
Width, Overall
8.42 ft (2.57 m)
Height, Turret Top
8.5 ft (2.59 m)
Height, Hull Top
6.75 ft (2.06 m)
Ground Clearance
18 in (457 mm)
PERFORMANCE
M1117
Engine
260 hp (194 kw) Cummins 6CTA8.3 diesel
Transmission
Allison MK3560 automatic. 6 speed forward, 1 speed reverse
Range
440 miles (708 km)
Fuel Capacity
50 gal (189 l) - diesel
Road Speed
63 mph (101 km/h)
Cross Country Speed
?
Swim Speed
N/A
Fording Depth
5.0 ft (1.52 m)
Grade
60%
Side Slope
30%
Trench Crossing
N/A
Vertical Wall Climb
2.0 ft (0.61 m)
PROTECTION
M1117
Armor
Steel armor hull. Internal spall liners.
Applique Armor
Ceramic composite armor system.
Explosive Reactive Armor
N/A
Active Protective System
N/A
NBC Protection System
M13A1 gas particulate filter system.
Smoke Equipment
M257 system: two 4-tube 66mm smoke grenade launchers.
ARMAMENT

M1117
Type
Mount
Typical Ammo Load
MK19 40mm grenade machine gun
Turret; belt feed
Ready: 96. Stowed: 600.
HE/DP, HE, TP.
.50 cal M2HB/M48 machine gun
Turret; belt feed
Ready: 200. Stowed: 800.
Ball, tracer.
Additional armament: The ASV team's weapons (M249 machine gun, M16/M4 rifles, M203 grenade launcher, AT-4 antitank weapon, M9 pistols). The ASV has a pintle mount that allows for exterior mounting of a M249.

FIRE CONTROL
M1117
Fire Control System
M36E2 day/night sight for gunner.
Main Gun Stabilization
N/A
Rangefinder
N/A
Infrared Searchlight
N/A
NOTES
The M1117 Guardian ASV is a lightly armored, four-wheel drive vehicle with exceptional maneuverability and versatility. The ASV features four-wheel independent suspension, power steering, power braking, central tire inflation system, engine fire-suppression system, a winch capable of conducting retrieval operations at 15,000 pounds (6,804 kg) with a snatch block and cable for self-recovery operations. The ASV is lightweight and air-transportable by C-130 and larger aircraft.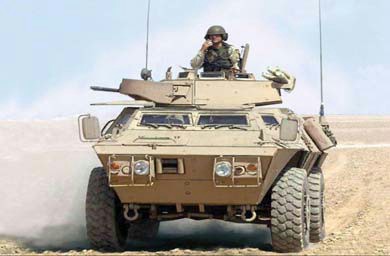 The ASV crew stations are designed for functionality, operability, and soldier comfort. The climatic controls include an auxiliary personnel heater and an air conditioner to sustain continuous operations under all environmental extremes. The cooling system consists of a radiator with an integral surge tank, coolant recovery system, and two thermostats. The limited space within the interior of the ASV makes it difficult for larger individuals to function adequately.
The ASV can accommodate a crew of three plus one passenger. However, the ability to accommodate the passenger is omitted when the vehicle is configured for combat operations with a full complement of ammunition, water, sustenance, and combat equipment.
The vehicle is equipped with a four-station intercom system. Additionally, it incorporates a collective chemical, biological, radiological, and nuclear (CBRN) protection system (M13A1) consisting of four gas particulate ventilated face pieces with interface for radio and crew intercommunications. Wearing the protective mask hampers target acquisition. Therefore, in a CBRN environment, the vehicle commander's and gunner's abilities to acquire targets are significantly reduced.
UP-GUN WEAPONS STATION, UP-GUNNED WEAPONS STATION, UGWS, 40/50 TURRET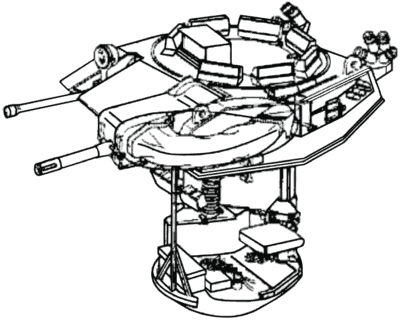 The ASV's firepower consists of a one-person, non-stabilized, turreted primary weapons station with a mounted 40mm automatic grenade launcher (MK19 MOD 3) and .50-caliber machine gun (M2/M48). The turret traverses 360° and allows for elevation of 45°. The day/night target acquisition and fire control system allows the gunner to engage targets at the maximum effective ranges of both weapon systems. The ammunition ready racks hold 96 rounds of 40mm ammunition and 200 rounds of .50-caliber ammunition. The vehicle also includes a M249 squad automatic weapon mount and M257 multi-salvo smoke grenade system.
The M36 sight provides the gunner with a 7-power sight with a reticle calibrated for both weapons to include right hand drift of the 40mm grenade downrange. The sight is laser protected but there is no laser range finder in this turret. A properly bore sighted UGWS in the hands of a trained gunner can provide first round hits on targets within maximum effective range. However, the sight does not take into account dynamic cant of the vehicle. That is the off level attitude of the vehicle that may arise from being on a front, rear, or side slope. This is when the art of gunnery is required to manipulate the weapons on target using intuitive adjustment of the reticle in relation to the target.
METT-TC (mission, enemy, time, terrain and weather, troops and support available, civil considerations) determines which weapon system is primary. For example, during urban operations, the M2 is most often the primary weapon enabling the crew to engage point targets in a congested area. Gunners must be mindful of collateral damage to civilian infrastructure and personnel.
During Operation Iraqi Freedom most engagements were initiated by the gunner. The gunner would automatically return fire. In the event the target was identified by a team leader, the gunner would move onto target and engage unless told to hold.
M2HB/M48 .50 Caliber Machine Gun.
The ASV normally fires armor piercing ammunition at a maximum effective range of 1,830 meters and a maximum range of 6,800 meters. The M2/M48 is not effective against tanks or the frontal armor of the BMP infantry combat vehicle. The M2/M48 is the weapon of choice for immediate suppression of ATGM launchers because of its fast time of flight and high rate of fire when compared to the MK19. The M2/M48 can also be used to range targets for the MK19. This is extremely effective in marking and suppressing the target and passing the correct range to the rest of the section for killing the target with their MK19s.
The M2/M48 can be used to engage low flying aircraft and helicopters, particularly when several vehicles are firing at the aircraft at the same time. It is difficult to track and hit aerial targets; therefore, a volume of fire should be established in front of the aircraft, forcing the aircraft to fly through the rounds.
MK19 MOD 3 Grenade Machine Gun.
The MK19 is an area weapon principally designed to destroy infantry, materiel, and lightly armored vehicles. The ASV mounted MK19 normally fires the high explosive/dual purpose (HE/DP) ammunition which provides excellent fragmentation and blast effect against infantry (up to 15 meter effective casualty radius (ECR), while possessing a shaped charge capable of penetrating 2 inches of rolled, hardened armor. The MK19 is an automatic grenade launcher, and therefore, has a relatively high angle of fire when compared to the M2/M48. The ballistic qualities of the MK19 can be characterized as relatively flat out to 1,000 meters with plunging characteristics past 1,000 meters to its maximum range of 2,200 meters.
The 40mm HE/DP round can penetrate the armor of most infantry fighting vehicles. Despite the degree of adjustment at longer ranges and long time of flight, the MK19 is the ASV's weapon of choice for the frontal engagement of BTR-type and BMP-type armored vehicles at ranges up to 1,000 meters. The MK19, fired off an ASV, can be massed to engage tanks with high angle plunging fires at ranges exceeding 1,000 meters in order to achieve penetrations of the turret or engine compartment roof. Under extreme circumstances, the MK19 may be effective against the rear armor of older tanks. Under no circumstances should the ASV be employed as an anti-tank weapon (except in its own defense).
Most units operating in Iraq indicated that a full belt of 40mm HE/DP was too heavy. Using 75 rounds worked more smoothly for the overall operation of the weapon system.
ARMOR
The ASV provides greater ballistic protection than any other wheeled vehicle of its size in the world. The external modular expandable armor system of ceramic composite material provides ballistic protection for the crew, ammunition, fuel tanks, and storage areas against 12.7mm armor-piercing ammunition. The ASV provides overhead protection against 60mm at 10 feet (3 meters) and 155mm ammunition at 50 feet (15 meters). It provides under body protection against antipersonnel and antitank mines up to 12 pounds (5.4 kg) TNT or equivalent explosive. This superior ballistic protection also includes a spall liner on the interior surfaces of the vehicle.

The ASV Frag Kits 1 and 2 will be applied to M1117's deployed in support of Operation Iraqi Freedom and Operation Enduring Freedom. ASV Frag Kit 1 applies enhanced armor protection for the underbody, side wheel well and the edge of the wheel well. ASV Frag Kit 2 applies enhanced armor protection around the fuel tank, side doors and side armor package. The kits are designed to enhance survivability of the ASV crew from injuries and fatalities.

The Frag Kits were developed in response to Theater incidents and Army characterization testing. The kits are undergoing ballistic and automotive testing in support of Safety Confirmation. Following successful testing, the system will be incorporated into new vehicle production. Retrofit kits for vehicles produced prior to that point will be up-graded with this solution. Total U.S. Army Fiscal Year 2008 requirement is 850 Frag Kit 1 and 850 Frag Kit 2 systems.


VARIANTS
M1117 ASV (NSN 2320-01-437-6957)

2000. "Armored Security Vehicle, Model M1117." $809,500. Original production model.



M1200 Armored Knight

2008. $1,800,000. Proposed M1117-based replacement for the M707 Knight and M981 fire support vehicles in both Heavy and Infantry Brigade Combat Teams. The M1200 Armored Knight provides precision strike capability by accurately locating and designating targets for both ground and air-delivered laser-guided ordnance and conventional munitions. The system includes a full 360° armored cupola and integrated Knight Mission Equipment Package that is common with the M7 Bradley Fire Support Team (BFIST)/M707 Knight and the Stryker Fire Support Vehicle. The common components are:

FS3 (Fire Support Sensor System) mounted sensor.
Targeting Station Control Panel.
Mission Processor Unit.
Inertial Navigation Unit.
Defense Advanced Global Positioning System Receiver.
Power Distribution Unit.
Stand-alone Computer Unit.


Additional equipment includes:

3 Single Channel Ground to Air Radio Systems (SINCGARS).
Force XX1 Battle Command.
Brigade and Below (FBCB2)/Blue Force Tracking (BFT).
Driver's Display Unit (DDU).
Vehicle Intercom System (VIS).