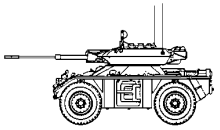 The Fox is air portable and normally operates attached to armored and mechanized infantry battalions. The Fox armored car is a further development of the Ferret light scout car.
The Fox has an all-welded aluminum armor hull and turret that protects against medium and heavy machine gun fire and field artillery splinters. The driver sits in front and has an integral periscope/hatch cover that lifts and opens to the right. The centered turret holds the commander/loader on the left and gunner on the right. They each have a rear-opening hatch cover.
The commander has a periscopic binocular instrument on a rotating mount. The gunner has two periscopes and a periscopic binocular daylight sight linked to the main gun. There is a passive night sight mounted to the right of the main gun. A flash shutter operated from the gun firing circuit protects the image intensifier from gun muzzle flash. There is a wiper and washer and armored cowl kept over the sight.
In the rear of the turret are the radios. The engine and its auxiliaries, including gear boxes, are mounted as a powerpack that can be removed through the rear. The engine is a militarized Jaguar XK engine, and has a reduced compression ratio to use military gasoline. British Army vehicles have electronic ignition. Horizontal twin radiators are set across the top to the rear of the engine.
Without preparation, the Fox can ford one meter of water. A flotation screen may be erected in two minutes. The front of the flotation screen has transparent panels for viewing. All Foxes are equipped with a bilge pump. With the flotation screen erected, the Fox is propelled and steered across rivers by its wheels.
The Fox is air transportable. Three fox vehicles can be carried in a C-130 Hercules aircraft; two for parachute drop.
Standard equipment includes infrared/white light headlamps, commander's spotlight, external side stowage boxes, drinking-water tank, electric distribution box with a cooking vessel socket, and inter-vehicle starting socket. Optional equipment includes navigation aids, powered traverse, nuclear and chemical detection equipment, and a ZB 298 surveillance radar on the left side of the turret.
These vehicles have been phased out of British service.

Recognition Features:
Two large wheels on each side.
Large, flat undercut turret with a square bin in the rear.
Long, thin gun in the turret.
Hull larger than the Ferret hull.