FV4201 Chieftain Main Battle Tank

GENERAL DATA
Chieftain Mk 5
Country of Origin
UK
Role
Main battle tank
Date Of Introduction
1967, original Chieftain
Crew
4 (commander, gunner, loader, driver)
Combat Weight
60.6 tons (55 mt)
Ground Pressure
12.8 psi (0.9 kg/cm²)
Length, Overall
35.4 ft (10.795 m)
Length, Hull
24.67 ft (7.52 m)
Width, Overall
11.48 ft (3.5 m)
Height, Overall
9.51 ft (2.9 m)
Ground Clearance
20 in (508 mm)
PERFORMANCE
Chieftain Mk 5
Engine
750 hp (559 kw) diesel
Range
249-311 miles (400-500 km)
Road Speed
30 mph (48 km/h)
Cross Country Speed
?
Swim Speed
N/A
Fording Depth
3.6 ft (1.1 m) unprepared
PROTECTION
Chieftain Mk 5
Armor
Turret front: 11.8 in (300 mm)
Applique Armor
ROMOR applique on turret. Track skirts
Explosive Reactive Armor
N/A
Active Protective System
N/A
NBC Protection System
Yes
Smoke Equipment
Six smoke grenade launchers on each side of turret
ARMAMENT

Chieftain Mk 5
Type
Mount
Typical Ammo Load
120mm L11A5 rifled gun
Turret; manual loading
64.
APFSDS-T, HESH
7.62mm L8A1 machine gun
Coaxial to main gun
6,000
7.62mm L37A1 machine gun
Turret cupola
200

FIRE CONTROL
Chieftain Mk 5
Fire Control System
Improved Fire Control System (IFCS)
Main Gun Stabilization
2-plane
Rangefinder
Laser, Nd-Yag
Infrared Searchlight
Yes
NOTES
Early Chieftains and some later modified tanks mount the .50 Cal M2HB machine gun over the main gun as a ranging gun. Iran and Kuwait retained the .50 Cal MG.
A HESH round is available for the main gun. The round is used for anti-tank chemical-energy (CE) antiarmor missions, and for HE effects against personnel and materiel.
The Iranians claim to employ a snorkel system on Chieftain, for fording to 5 meters depth.
A variety of fire control systems and thermal sights are available for Chieftain. 324 Chieftains have been upgraded with the Barr and Stroud TOGS thermal sight system. The 1R26 thermal camera can be used with the 1R18 thermal night sight. It has wide (13.6") and narrow (4.75") fields of view, and is compatible with TOGS format. GEC Sensors offers a long list of sights including: Multisensors Platform, Tank Thermal Sensor, and SS100/110 thermal night sight. Marconi, Nanoquest, and Pilkington offer day and night sights for the Chieftain.
Charm Armament upgrade program, with the 120-mm L30 gun incorporated in Challenger 1, is available for Chieftain modification programs.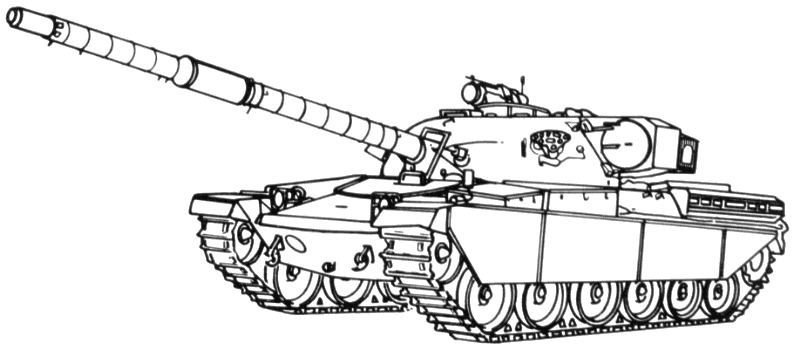 VARIANTS
Chieftain Mk 5

Final production variant, with a new engine and NBC system, modified auxiliary weapons and sights. Mk 6-11 are upgrades to earlier models, with addition of IFCS. Mk 12 added ROMOR (aka: Stillbrew) spaced armor boxes. Mk 11 and Mk 12 have Thermal Observation and Gunnery Sight (TOGS).


Khalid/Shir 1

Jordanian variant which has chassis, turret and weaponry of the Chieftain, but which incorporates engine and running gear upgrades of Challenger I. The fire control has seen a number of improvements, including a new ballistic computer.

FV4204 ARV

Armored Recovery Vehicle derivative.

FV4205 AVLB

Armored Vehicle-Launched Bridge derivative.
Other support vehicles developed from the tank include dozer, mineclearer, air defense and 155-mm SP artillery systems.