M73, M73A1, M219 7.62mm Tank Machine Guns

M73, M73A1, M219
Country of Origin
USA
Date Of Introduction
M73: 1959
M219: 1977
Caliber
0.3 in (7.62 mm)
Cartridge
7.62 mm NATO
System of Operation
Recoil with gas assist
Cooling
Air
Weight
M73: 31.0 lb (14.1 kg)
M73A1, M219: 29.8 lb (13.5 kg)
Length
35.0 in (889 mm)
Height
Cover closed: 5.3 in (135 mm)
Cover opened: 6.6 in (168 mm)
Width
4.4 in (112 mm)
Barrel Weight
5.25 lb (2.38 kg)
Barrel Length
22.0 in (559 mm)
Barrel Rifling
R.H., four grooves, pitch 1 in 12 inches (305 mm)
Feed
Metallic link belt (right or left hand)
Performance
Rate of Fire
500 to 625 rds/min
Muzzle Velocity
2,800 fps (853 mps)
Maximum Range
4,000 yd (3,700 m)
Maximum Effective Range
(Tracer Burnout)
984 yd (900 m)
Method of Target Engagement
20-30 round bursts
NOTES
The M73, M73A1, and M219 7.62mm machine guns are lightweight, air-cooled, metallic link belt fed from either right or left side, designed as a coaxial gun for tanks and 7.62mm firepower on lighter armored vehicles. All have short receivers, are recoil operated with a gas assist to boost recoil and are designed with a quick change barrel with fixed headspace. The cycle of operation and functioning is initiated from the retracted (seared) position of the barrel extension assembly. These machine guns can be easily disassembled.

The machine gun is normally issued and used as a left hand fed weapon. However, some vehicle applications use the gun with right hand feed.

Part of the secondary armament on the U.S. M48A3, M60-series, and M551 Sheridan tanks, and M728 Combat Engineer Vehicle.

Replaced by the M240 armor machine gun in U.S. service.
VARIANTS
The model designation for the M73E1 was changed to M73A1 and later changed to M219. M73, M73E1 and M73A1 models were changed at time of overhaul to the M219 configuration.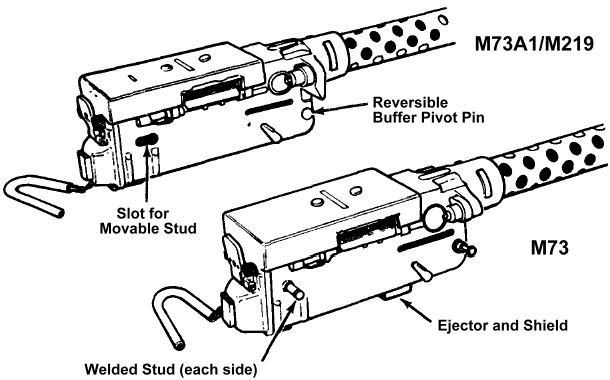 M73 (NSN 1005-869-8816)

1959. "Machine Gun, 7.62-mm, M73". The M73 was prone to jamming and experienced numerous other malfunctions.

M73E1

A product improved version of the M73. Features a simplified ejection system. Standardized and type classified as the M73A1 machine gun.

M73A1 (NSN 1005-937-7323)

"Machine Gun, 7.62-mm, M73A1". Reclassified as the M219.

M219 (NSN 1005-077-2354)

1977. "Machine Gun, 7.62-mm, M219". Continuing problems led to the adoption of the M240 machine gun.

M73C

An M73 modified for use as a flexible machine gun by the addition of sights and a pistol grip trigger. The M73C was mounted on the XM132 tripod mount, which was a .30 cal. M2 mount with an adapter to fit the M73C.
AMMUNITION
More M73/M219 Art - Click on image sample to see full size image.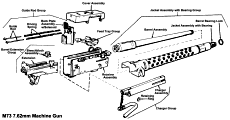 M73 major groups and assemblies.
960x500, 36K, GIF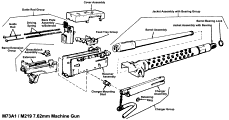 M73A1/M219 major groups and assemblies.
1010x530, 39K, GIF