This light tank with a stabilized 76mm automatic gun was designed to replace the M24 Chaffee after World War II. Improvements included cast and welded turret, new mantlet, redesigned ammunition stowage, new fire control system, stabilization system, and automatic lead computer.
The M41 Walker Bulldog was named for General W. W. Walker who was killed in Korea. Replaced by the M551 Sheridan in U.S. Army service.
The driver sits at the front, left side of the all-welded steel hull. Three periscopes are mounted in front of the driver, and another one to his left. Beneath the driver's seat is a hull escape hatch.
The commander and gunner sit on the right, and the loader on the left. A hatch cover opens forward of the commander's cupola, which has five vision blocks and a 360° traversable periscope. Another periscope that can be traversed 360° is provided for the gunner.
The gunner also has a telescopic sight for aiming the 76mm gun. The loader has a single periscope and a hatch cover that opens forward. A light sheet-metal stowage box is mounted on the turret rear. A dome-shaped ventilator is on the turret roof toward the rear. The driver operates the ventilator blower.
The M41 is divided into three compartments. The driver's compartment is at the front, the fighting compartment is in the center, and the engine compartment is at the rear.
Standard equipment on all M41s includes a heater, deep fording equipment, and electric bilge pumps. The M41 is not equipped with an NBC system.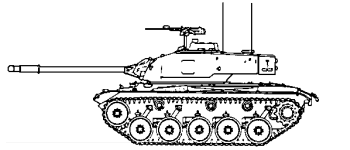 Recognition features:
Five evenly spaced road wheels.
Three track return rollers.
Drive sprocket in the rear and idler in the front.
Turret sits well forward on the hull.
Elongated bustle.